Jamestown Healing Clinic (JHC) is accepting applications for a full-time Transportation Driver to join our growing team!
The Transportation Driver will be transporting patients throughout the local area to and from JHC appointments in a safe and timely manner. The Transportation Driver will be guided by established schedules and follow state laws as well as JHC policies and procedures. This position will work as part of a team for an integrated care clinic that combines primary care, dental, behavioral health, and opiate use disorder treatment.
Jamestown S'Klallam Tribe has implemented COVID-19 safety measures to ensure the health and well-being of our employees, patients, Tribe, and vulnerable citizens of our community, which includes required masking regardless of vaccination status. All healthcare staff are required to be fully vaccinated and provide proof of vaccination prior to starting their first day of employment.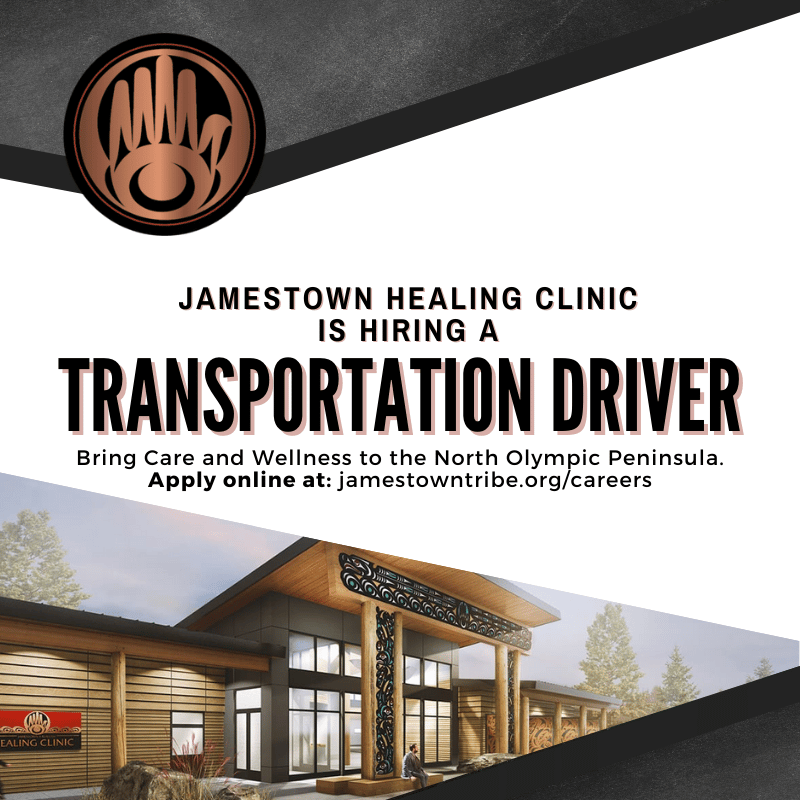 About Jamestown Healing Clinic
The Jamestown Healing Clinic (JHC) is a new integrated care clinic that will be opening Spring 2022. JHC will provide comprehensive patient care including an opioid treatment program, primary care, dental, substance abuse disorder counseling, and behavioral health. We believe a holistic service delivery approach is most effective at providing sustained recovery for those struggling with addiction. That's why in addition to offering substance abuse disorder treatment, we will also be offering a robust group of wrap-around services to best address the total needs of our patient population, such as child-watch, transportation and individualized care coordination. Learn more about our healing clinic at: https://jamestownhealingcampus.org/
As a Transportation Driver, you will:
Transport medical passengers (patients and potentially their children) inside and outside of the JHC to designated areas in a punctual and timely manner using JHC vehicles
Ensure that patient transportation is conducted with the utmost care and in full compliance with all traffic laws and regulations
Instruct passengers in requisite safety precautions and practices while riding in JHC vehicles
Ensure child safety rules and expectations are upheld continuously
Establish and maintain communication with patients and coworkers to improve quality of service to patients of the JHC
Comfort patients and their families by offering support and encouragement; being punctual and attentive to procedure schedules; demonstrating caring and cultural sensitivity
Respect and protect patient confidence and confidentiality by keeping all sensitive and patient information private
Follow all protocols and procedures to ensure safe delivery of supplies and laboratory specimens
Operate the wheelchair lift in accordance with established safety procedures and protocols
Maintain discipline within the JHC vehicle and report all passenger behavior issues to management
Conduct mechanical condition inspections daily, such as checking vehicle fluid levels and verifying complete and accurate operational performance; ensure vehicles maintenance schedules are conducted, and operational records are updated accordingly
Immediately report all delays and any accidents incurred to the Transportation Manager or other assigned staff
What are the Required Qualifications for this position?
21 years of age or older
High School diploma or GED
Extremely reliable and punctual for all assigned shifts
Complete drivers abstract history from Washington DOL with five (5) years of verifiable driving experience; good driving record
One (1) year experience in medical/para transport, passenger transport, emergency vehicle operation, or relevant position i.e., military experience
Comfortable transporting patients traveling with children
Ability to secure child safety seats in accordance with Washington State Law
Comfortable driving in harsh weather conditions
Extensive knowledge of all traffic and highway safety rules and precautions to avoid accidents
Knowledge of relevant equipment, policies, procedures, and strategies to promote effective security operations for the protection of people, data, and property while operating a motor vehicle
Ability to maintain professional composure when dealing with unusual circumstances
Comfortable transporting patients who are in recovery from substance use disorders, who have mental health disorders, or who are experiencing homelessness
Understands and adheres to state (RCW, WAC) and federal confidentiality regulations (42 CFR part 2). Employees must always conduct self ethically and professionally
Effective communication; written, verbal, and interpersonal skills, including conflict resolution
Knowledge of, and culturally sensitive to, the challenges of the patients at the JHC
Maintain and ensure patient confidentiality
Computer proficiency in Microsoft Word, Excel, PowerPoint
Uphold all current vaccine requirements for employment
CPR/First Aid Certification or ability to complete employer provided training upon hire
Must be able to successfully pass criminal background check investigation
Valid Washington State Drivers License: ability to travel locally and regionally as assigned
What are the Preferred Qualifications for this position?
Knowledge of Local, State, and Federal Laws and Regulations
Knowledge of office administrative operations, including personnel management, and compliance
Excellent organization skills and the ability to prioritize multiple tasks
Effective time management, decision-making, and problem-solving skills
Demonstrate initiative, work independently with little supervision
American Indian/Alaska Native preferences apply