Substance Use Disorder Peer Support Specialist
Jamestown Healing Clinic (JHC) is accepting applications for a full-time Substance Use Disorder Peer Support Specialist to join our growing team!
The Substance Use Disorder (SUD) Peer Support Specialist serves as a mentor and guide for patients by providing emotional support, teaching recovery skills, sharing information on local resources, and assisting patients in the community. The SUD Peer Support Specialist empathetically shares his/her lived experience in recovery from a SUD or co-occurring disorders for the purpose of empowering patient s in their recovery journey. This position collaborates with the clinical team, especially the Nurse Case Manager and SUD Lead, and provides support to non-peer staff by offering unique perspectives on a patients substance use, treatment, and potential unseen barriers to engagement.
Jamestown S'Klallam Tribe has implemented COVID-19 safety measures to ensure the health and well-being of our employees, patients, Tribe, and vulnerable citizens of our community, which includes required masking regardless of vaccination status. All healthcare staff are required to be fully vaccinated and provide proof of vaccination prior to starting their first day of employment.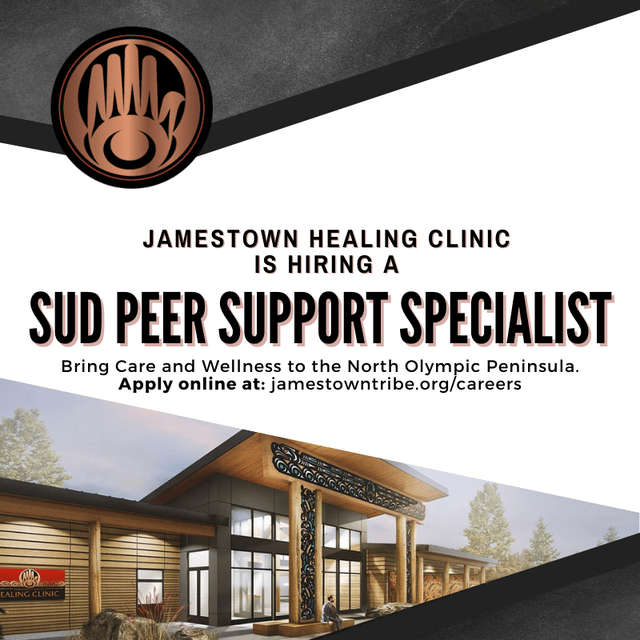 About Jamestown Healing Clinic
The Jamestown Healing Clinic (JHC) is a new integrated care clinic that will be opening Spring 2022. JHC will provide comprehensive patient care including an opioid treatment program, primary care, dental, substance abuse disorder counseling, and behavioral health. We believe a holistic service delivery approach is most effective at providing sustained recovery for those struggling with addiction. That's why in addition to offering substance abuse disorder treatment, we will also be offering a robust group of wrap-around services to best address the total needs of our patient population, such as child-watch, transportation and individualized care coordination. Learn more about our healing clinic at: https://jamestownhealingcampus.org/
As a SUD Peer Support Specialist, you will:
Support patients in identifying and articulating personal goals for recovery and wellness
Provide support founded on key principles of respect, shared responsibility, and mutual agreement of what is helpful
Develop a one-one-one relationship with patient to encourage, motivate, and support the patient through treatment and long-term recovery, while also maintaining appropriate ethical and professional boundaries with the patient
Assist patients in identification of personal strengths
Guide patients in determining the steps needed to reach his/her recovery goals
Assess recovery stage and appropriate interventions for that stage
Model effective coping techniques and self-help strategies
Serve as a liaison between patients and clinician(s)
Assist patient in obtaining services that suit the patients co-occurring recovery needs
Endorse harm-reduction, and support patient connections to comprehensive community-based services targeted to reduce harm and produce incremental improvements to overall health
Utilize a problem solving approach to develop course of action towards recovery
Demonstrate interdisciplinary collaboration, inner agency and in the community, in service of meeting co-occurring patient needs
Help patients develop informal support systems
Attend weekly interdisciplinary team meetings to address both SUD and behavioral health needs
Demonstrate accurate, relevant, and timely completion of all documentation required in accordance with Washington State and clinic standards
Cross-training in other clinic support roles as deemed necessary by supervisor, nurse case manager, or clinic leadership. Cross-training may include assisting with front or back-office work such as updating medical records, scanning documents, patient outreach, scheduling follow-up appointments, etc.
What are the Required Qualifications for this position?
High school diploma or equivalent
Experience working with individuals diagnosed with substance use disorders
Valid certification as a SUD peer support specialist in Washington state OR must be able to obtain certification within six (6) months after hire
Has a personal commitment to his/her own recovery and has maintained that recovery for at least two (2) years
Knowledge and understanding of the signs, symptoms, and necessary interventions of co-occurring disorders
Ability to establish and maintain effective working relationships with community members, co-workers, supervisor, and other agencies
Ability to work in a cross-culture environment, understanding the social and cultural context of the patients at the Jamestown Healing Clinic; understands the role of trauma, historical, community, family, and personal experience in wellness and recovery
Strong interpersonal skills including effective verbal and written communication
Ability to effectively work with patients who may exhibit angry and/or threatening behaviors
Computer proficiency in Microsoft Word, Excel, PowerPoint
Effective time management, decision-making, and problem-solving skills
Understands and adheres to state (RCW, WAC) and federal confidentiality regulations (42 CFR part 2).
Knowledge of, and culturally sensitive to, the challenges of the patients being served at the JHC
Uphold all current vaccine requirements for employment
CPR/First Aide Certification or ability to complete employer provided training upon hire
Must be able to successfully pass criminal background check investigation
Valid Washington State Drivers License; ability to travel locally and regionally as assigned
What are the Preferred Qualifications for this position?
Associate or Bachelors degree in human services, social work, or psychology
Experience working with electronic medical records (EMRs)
Experience working with individuals of co-occurring disorders
Knowledge of Local, State, and Federal Laws and Regulations
Knowledge of office administrative operations, including personnel management and compliance
Excellent organization skills and the ability to prioritize multiple tasks
Demonstrate initiative, work independently with little supervision
American Indian/Alaska Native preferences apply