Jamestown Healing Clinic (JHC) is searching for a full-time Licensed Practical Nurse (LPN) to join their team! 
This position provides outpatient nursing care for all patients at the JHC. This position will work as part of a team for an integrated care clinic that combines primary care, dental, behavioral health, and opiate use disorder treatment. The LPN will cross train to provide assistance with medication dispensing.
Jamestown S'Klallam Tribe has implemented COVID-19 safety measures to ensure the health and well-being of our employees, patients, Tribe, and vulnerable citizens of our community, which includes required masking regardless of vaccination status. All healthcare staff are required to be fully vaccinated and provide proof of vaccination prior to starting their first day of employment.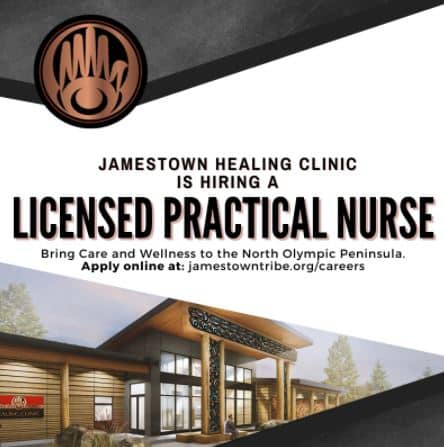 About Jamestown Healing Clinic
The Jamestown Healing Clinic (JHC) is a new integrated care clinic that will be opening Spring 2022. JHC will provide comprehensive patient care including an opioid treatment program, primary care, dental, substance abuse disorder counseling, and behavioral health. We believe a holistic service delivery approach is most effective at providing sustained recovery for those struggling with addiction. That's why in addition to offering substance abuse disorder treatment, we will also be offering a robust group of wrap-around services to best address the total needs of our patient population, such as child-watch, transportation and individualized care coordination. Learn more about our healing clinic at: https://jamestownhealingcampus.org/
Provide general nursing care to patients including administration of medications, CLIA waived testing, EKG and treatments in accordance with nursing license and JHC clinic standards

Assist providers with clinical procedures

Room patients, obtain and document vitals and patient history if necessary, and as directed by provider and clinic protocol

Promote a safety-conscious work force

Assess, plan, implement and evaluate individual nursing care as clinically appropriate

Responsible for prioritizing and ensuring prompt care for all patient encounters in the order of face-to-face visits, telephone messages and written requests

Responsible for working with the medical staff and medical assistants to ensure efficient patient flow and complete patient care in a timely manner

Responsible for ensuring smooth coordination of care and continuum of care for JHC patients

Responsible for chronic care management of patients who have depression, diabetes, CHF and chronic pain per clinic and practice team policies, procedures, and processes

Prepare patients for examinations, screen patients for appropriate information, and instruct patients in collections of samples, specimens, and tests; provide IV therapies

Educate and inform patient/family regarding results of laboratory orders and clinical tests, health maintenance, wellness, nutrition, medications, diagnostic procedures, and treatments

Observe, record and report patients condition including reactions to drugs and treatments to the provider

Responsible for ensuring accurate medical and health information is entered in patients electronic health record

Respond to/refer incoming patient treatment related phone calls. Instruct patient and family regarding medications and treatment instructions.

Adhere to all JHC policies and procedures, including but not limited to standards for safety, and work practices as described in the JFHC Occupational Exposure Control Plan and HIPAA

Ability to cross-train for Dispensing Nurse essential functions and responsibilities

Maintain and ensure patient confidentiality

Other duties as assigned by supervisor in support of the program

 
What are the Required Qualifications for this position?
Graduation from an accredited school of nursing

Valid Washington State license to practice as a Licensed Practical Nurse

Knowledge of professional nursing theory, regulations, and practices to evaluate and provide patient care

Understanding of substance use disorders, treatment theories, and medications commonly used to treat substance use disorders such as methadone and buprenorphine

Understanding of common health conditions such as diabetes, asthma, COPD, HTN, HLD, and CAD as well as the medications used to treat these conditions

Knowledge of human behavior and performance; individual differences in ability, personality, and interests; learning and motivation; and the assessment and treatment of substance use, behavioral, and affective disorders

Ability to work in a cross-culture environment, understands the social and cultural context of the patients at the Jamestown Healing Clinic; understands the role of trauma, historical, community, family, and personal experience in wellness and recovery

Exceptional interpersonal skills including effective verbal and written communication

Ability to effectively work with patients who may exhibit angry and/or threatening behaviors

Understands and adheres to state (RCW, WAC) and federal confidentiality regulations (42 CFR part 2)

Experience working with Electronic Medical Records (EMRs) and use of appropriate medical documentation principles

Computer proficiency in Microsoft Word, Excel, PowerPoint

Uphold all current vaccine requirements for employment

Must be able to successfully pass criminal background check investigation

Valid Washington State Drivers License: ability to travel locally and regionally as assigned
What are the Preferred Qualifications for this position?
Clinic experience preferred

CPR/First Aide Certification or ability to complete employer provided training upon hire

Experience and knowledge of EPIC

Excellent organization skills and the ability to prioritize multiple tasks

Effective time management, decision-making, and problem-solving skills

American Indian/Alaska Native preferences apply