Jamestown Healing Clinic (JHC) is accepting applications for a Dispensing Nurse 
The JHC Dispensing Nurse will work as part of a team for an integrated care clinic that combines primary care, dental, behavioral health, and opiate use disorder treatment. This position requires administering medications as ordered by medical providers while maintaining accurate accounting of all medication received and dispensed. The Dispensing Nurse is responsible for safekeeping of all medications and accurate medication record keeping required by the DEA, FDA, and Board of Pharmacy.
Jamestown S'Klallam Tribe has implemented COVID-19 safety measures to ensure the health and well-being of our employees, patients, Tribe, and vulnerable citizens of our community, which includes required masking regardless of vaccination status. All healthcare staff are required to be fully vaccinated and provide proof of vaccination prior to starting their first day of employment.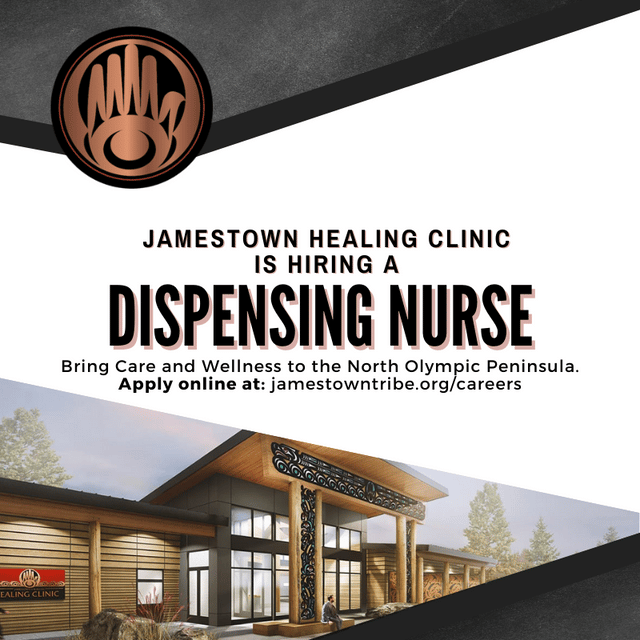 As a Dispensing Nurse, you will:
Administer Methadone or Buprenorphine/Naloxone or Monotherapy Buprenorphine (Suboxone/Subutex) as ordered by the Medical Director and staff providers
Maintain accurate accounting of all medication received (from supplier) and dispensed (to the patient)
Responsible for the safekeeping of all medication stock and the records required by the DEA, State Board of Pharmacy, and JHC
Conducts breath alcohol testing, urine collection and processing, reading test results as needed; ensures accurate completion of all forms documenting these procedures
Works within scope of license to include measure and record patients' vital signs, nursing-level physical assessment, patient care or treatment (to include wound care), and patient education
Assess patient physical condition, reporting observations to providers either verbally or in writing
Alert treatment staff of any observed changes in patient status
Enter and update prescriptions and medications in the patients electronic health record
Accurately chart patient encounters and patient incidents within the required guidelines
Record all inter-agency communications relating to the patient in a timely manner upholding all applicable guidelines
Explain the proper use of dispensed medication and its effects to patients
Maintain current statistical records
Sterilize equipment and supplies, using germicides, sterilizer, or autoclave
What are the Required Qualifications for this position?
Graduation from an accredited school of nursing; current LPN license in the state of Washington; unrestricted license to practice within the state of Washington
Three years of experience in a clinic setting
Previous substance abuse treatment and/or primary care experience
Knowledge of the current medical practices in primary care, mental health, and addiction medicine
Knowledge of substance use disorders and their effects on individuals, families, and communities
Experience using Electronic Health Records (EHRs)
Exceptional personal and ethical boundaries, empathy, and effective communications skills
Ability to work in a cross-culture environment, understands the social and cultural context of the patients at the JHC. Understands the role of trauma, historical, community, family, and personal experience in wellness and recovery
Understands and adheres to state (RCW, WAC) and federal confidentiality regulations (42 CFR part 2). Applicants must always conduct self ethically and professionally
Effective communication; written, verbal, and interpersonal skills, including conflict resolution
Computer proficiency in Microsoft Suite
Must be able to successfully pass a criminal background investigation
Uphold all current vaccine requirements for employment
Ability to travel locally and regionally as assigned
Valid Washington State Drivers License
What are the Preferred Qualifications for this position?
CPR/First Aide Certification (if not currently a certification holder, will complete employer provided training upon hire)
Knowledge of Local, State, and Federal Laws and Regulations
Knowledge of office administrative operations, including personnel management, and compliance
Excellent organization skills and the ability to prioritize multiple tasks
Effective time management, decision-making, and problem-solving skills
Demonstrate initiative, work independently with little supervision
American Indian/Alaska Native preferences apply