Advanced Registered Nurse Practitioner - JHC
Jamestown Healing Clinic (JHC) is accepting applications for full-time Advanced Registered Nurse Practitioners (ARNP)
The JHC ARNP will be responsible for caring for patients, maintaining accurate and current medical records, and collaborating with other care providers to provide comprehensive care for patients with substance use disorders. This position will work as part of a team for an integrated care clinic that combines primary care, dental, behavioral health, and opiate treatment. This position will provide primary medical care as well as treatment of opiate use disorders with prescription medications such as methadone or buprenorphine to those enrolled at JHC.
Jamestown S'Klallam Tribe has implemented COVID-19 safety measures to ensure the health and well-being of our employees, patients, Tribe, and vulnerable citizens of our community, which includes required masking regardless of vaccination status. All healthcare staff are required to be fully vaccinated and provide proof of vaccination prior to starting their first day of employment.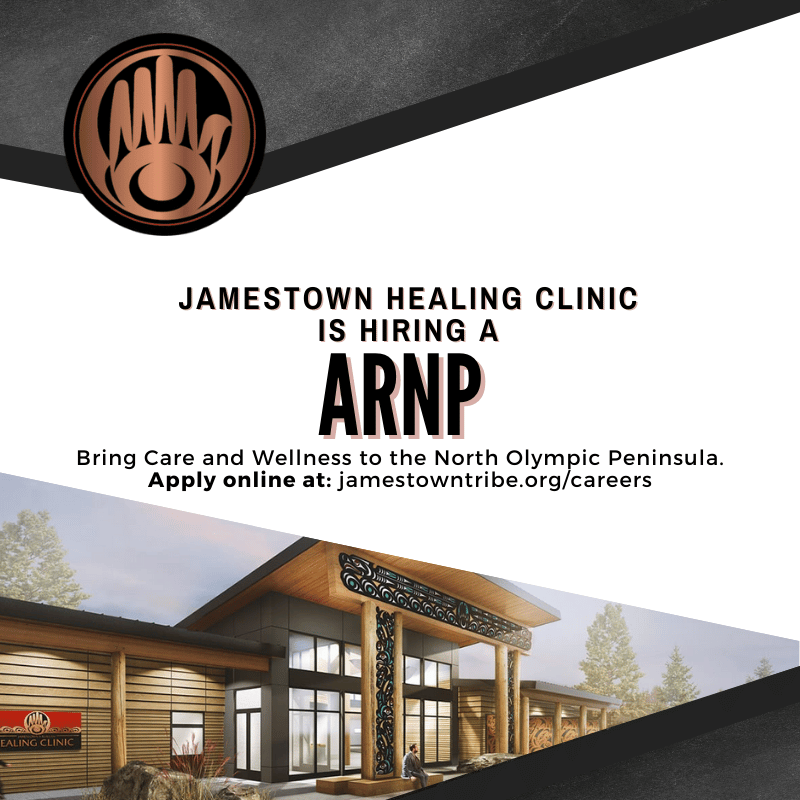 Provide primary care to patients of the JHC with appropriate clinical management which may include prescription of medications, referrals, and education/counselling. Manages common health issues that arise including Hepatitis C, Wound Management, URI, HTN, and asthma
Diagnose or treat complex, unstable, comorbid, episodic, or emergency conditions in collaboration with other health care providers as necessary
Provide medical services including taking a history and physical examination for the opiate treatment program and performs appropriate follow-up visits
Accurately and efficiently monitor daily doses of Methadone/Buprenorphine (Suboxone/Subutex) or other medications as indicated by the physician
Provide outpatient detoxification and treatment services to persons addicted to opiates
Develop treatment plans, based on scientific rationale, standards of care, and professional practice guidelines
Provide general health counseling services under the supervision of the Medical Director and follows the progress of patients. Makes appropriate records of findings during examinations and submits charts to the Medical Doctor for review and signature when requested
Educate patients regarding how to take prescribed medication and possible side effects
Identify complex problems and reviewing related information to develop and evaluate options and implement solutions
Cross-train in other aspects of clinic operations as necessary to provide safe, timely, and evidence-based patient care
What are the Required Qualifications for this position?
Graduate of an Advanced Nurse Practitioner program accepted by the State of Washington for licensing; FNP, or AGPCNP
Certification by one of the following: American Academy of Nurse Practitioners Certification Board (AANPCB) or American Nurses Credentialing Center (ANCC)
Unrestricted license to practice within Washington
Current DEA Certificate without restrictions
Previous substance abuse treatment and/or primary care experience
Knowledge of the current medical practices in primary care, mental health, and addiction medicine. Management of sexually acquired illnesses, Hep C, family planning and familiarity with prenatal care beneficial
Maintain BLS Certification
CPR/First Aide Certification or ability to complete employer provided training upon hire
Knowledge of the information and techniques needed to diagnose and treat human injuries, diseases, and deformities. This includes symptoms, treatment alternatives, drug properties and interactions, and preventive health-care measures
Ability to work in a cross-culture environment, understands the social and cultural context of the patients at the JHC. Understanding the role of trauma, historical, community, family, and personal in wellness and recovery
Understands and adheres to state (RCW, WAC) and federal confidentiality regulations (42 CFR part 2). Applicants must always conduct self ethically and professionally
Effective communication; written, verbal, and interpersonal skills, including conflict resolution
Computer proficiency
Excellent organization skills and the ability to prioritize multiple tasks
Effective time management, decision-making, and problem-solving skills
Demonstrate initiative and work independently with little supervision
Must be able to successfully pass a criminal background investigation
Uphold all current vaccine requirements for employment
Valid Washington State Drivers License; ability to travel locally and regionally as assigned
What are the Preferred Qualifications for this position?
Experience and knowledge of electronic health records
Knowledge of Local, State, and Federal Laws and Regulations
Knowledge of office administrative operations, including personnel management, and compliance
American Indian/Alaska Native preferences apply